Lake Arrowhead is an exceptional residential lake and golf community so close to the conveniences and attractions of the southís largest urban center, yet so very far away from the hustle and hassles of the big city. Nestled amidst the majestic North Georgia Mountains and just 40 minutes north of Atlanta. Lake Arrowhead offers serene natural beauty, a host of world-class amenities and a quality of life that is unlike any other in metro Atlanta. Johnson Development Company Georgia has a unique vision for Lake Arrowhead. Great care is being taken to respect and preserve the ecological balance and natural integrity of this unusually pristine residential setting.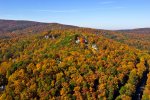 The centerpiece of Lake Arrowhead is of course, the lake, 540 acres of azure blue, pure mountain stream fed waters, one of the largest privately owned man-made lakes in the Southeast. Add to this, a dynamic new 18-hole golf course scheduled to open in Spring 2008, a generous array of outstanding amenities (some existing and many now in the planning stages) and a Swim/Activity Park that will rival them all. Add again, 8,000+ acres of lush forestland and all the ingredients are in place to deliver a rewarding one-of-a-kind lifestyle to discriminating home buyers seeking quality and value.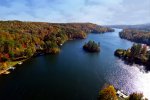 The evolving master plan of Lake Arrowhead is taking full advantage of the siteís unique characteristics and will afford residents spectacular lake and mountain views from stunning waterfront and mountainside homesites. The creation of a proposed lakefront Town Center with a mix of retail, commercial, recreational and high density residential will become the focal point and gathering place of the community. A unique creek side Sales & Information Center is in the construction stages and is scheduled to open Summer 2007. Homes will be priced from the $300ís to the $600ís.